How a Sealer Protects Stone Countertops
Are you wondering how a sealant will protect your countertops from certain damages? Follow along with Cutting Edge Flooring Services of Houston for the inside scoop! Granite is a popular choice for kitchen countertops, bathroom vanity tops, and the likes because it is aesthetically appealing and durable.
But these surfaces are easily prone to staining when exposed to oily or dye-containing substances regularly. Sealing is an effective method of preventing stains on kitchen countertops. A properly sealed countertop repels water and prevents stains and germs from settling into the pores of the surface. When you care for the stone properly, damage can be completely avoided.
Kitchen countertops, bathroom vanity tops, bar tops, and the like are especially prone to staining because they are exposed to oily or dye-containing substances on a daily, or sometimes, even an hourly basis. Consequently, a sealer should be applied to inhibit staining. Choosing the correct type of sealer can be very important for how the sealer performs. An experienced, professional stone restoration contractor will know which sealer is best, taking into consideration the characteristics of the particular type of stone to which it will be applied and the location where the stone is used. This article provides information on how sealers protect your countertops. Please keep on reading.
Learn more about Cutting Edge Flooring Services and what we can do for you and your home.
Related Post: Countertop Care When You Have Cloudiness and Haze
Different Types of Sealers for Countertops
Choosing the right type of sealer is important to protect your stone countertops. An experienced stone restoration contractor knows which type of sealer is best for your countertop. Contact Cutting Edge Flooring Services, we consider the different characteristics of countertop materials before recommending the best sealer for your countertop. Below are three types of sealers that you should know about.
1. Topical Sealers
Topical sealers are made from natural wax, acrylics, or polyurethane. This sealer will stay on the surface of the stone just as the name suggests. The sealer will effectively prevent stains and germs from seeping in but may wear out too quickly. A topical sealer will change the looks of the countertop and provide a slippery surface. But gases and water vapor can escape through the sealer.
2. Impregnating Or Penetrating Sealers
This is the most common type of countertop sealer typically known as penetrating sealers. The sealer will penetrate through the stone surface and show good resistance to liquid penetration. It protects the stone from within and is more durable compared to topical sealers. The sealer is made from oil and water-repellent substances. Some of the latest sealers in this category are effective against efflorescence and frost weathering.
3. Nanotech Sealers
Nanotech sealers are the most technologically advanced type of sealer in the market today. Nanotechnology is used to make the stone resistant to water, dirt, chemicals, environmental damage, UV light, and decay. These sealers are the most durable for your stone countertops.
Check Out Our Home Improvement Blog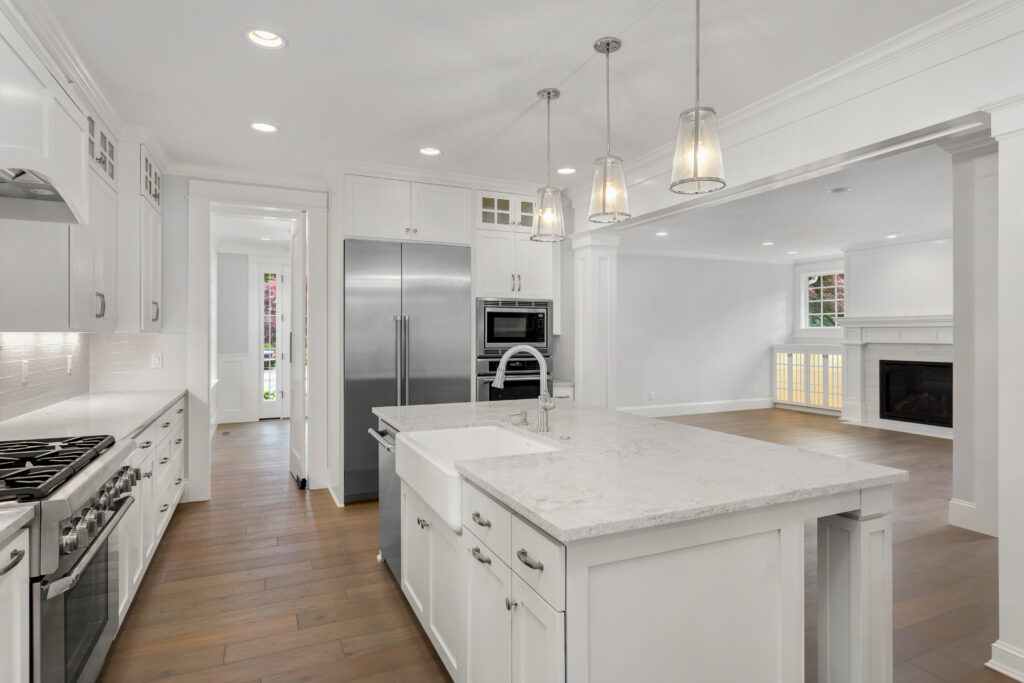 Misconceptions About Countertop Sealers
There are many misconceptions about countertop sealers. One misconception is that a sealer will form a protective film or shield to absolutely prevent staining and damage to the countertop. In fact, the countertop can still get stained or damaged even when sealed. Sealers don't prevent etching or traffic patterns.
1. Surface Vulnerability
The surface is still vulnerable to scratches, acidic substances, dullness, and other damages. However, the sealer will dramatically reduce the rate of absorbency of a stone – so that it won't absorb and stain as quickly. The stone is not stain-proof but stain-resistant when a sealer is applied. You have more time to clean the spill before it can penetrate the stone and stain the surface of the countertop. When natural stone is sealed, it should be cleaned regularly with pH-neutral stone care products and resealed periodically.
2. Sealing Frequency
The quality of the sealer and the porosity of the stone are important considerations when determining the sealing frequency. But most stone sealers may last between 3 to 5 years, and some will last for even 10 years when the countertop surface is diligently and properly cared for. Some of the latest cutting-edge sealers create permanent bonds with the stone and require only a single application. A professional stone contractor can inspect your countertop and recommend the best time to reseal it.
3. Before Sealing Your Countertop
You should take better care of the kitchen countertop to maintain a beautiful kitchen. Granite is a porous material, and when you spill something and the surface isn't sealed, it may cause permanent staining and unsightly marks on the surface. Taking the water test is important before you decide to reseal the countertop. Take 1/4 cup of water and pour it on your countertop. If the water stays "beaded" on the top of the surface, your countertop doesn't require resealing yet. But if the water seems to seep into the surface of the countertop or you notice a dark spot, you should seal the countertop.
4. Proper Cleaning and Maintenance
Proper cleaning and maintenance of the countertop are important to prolong its lifespan. Use a washcloth, a piece of sponge, a gentle soap, and water to remove food debris and other dirt from the surface. Dry the surface thoroughly after washing and cleaning. Avoid harsh abrasive and acidic solutions on the surface because they may scratch or dull the countertop surface over time. Avoid bleaching the surface since bleach can dull it. Use a paste of baking soda and water to remove stains from the countertop.
In Conclusion
Countertop surfaces are easily prone to staining when exposed to oily and dye-containing substances. Sealers help protect your countertop and prolong its lifespan. If you would like more information about sealing services, make sure to contact our team today at Cutting Edge Flooring Services.
Schedule Your Countertop Sealing Appointment