Five Reasons Why It May Be Time to Replace Your Tiling
Whether you moved into a house with tile flooring or you feel it's time to remove the tile flooring you had installed yourself, do not wait any longer to get it done. While tile flooring can last for decades when properly taken care of, that doesn't necessarily mean you can't make a change with new flooring. Replacing tiling can offer a lot of benefits. Here are five reasons why you might want to replace your tiling.
We Specialize in Dustless Tile Removal
1. Your Tile is Broken, Cracked, or Chipped
While tile flooring can stand up to a lot of abuse, sometimes it can chip or crack. This can be a result of something extremely heavy or sharp falling onto it. It may even have been cracked during the installation process. Even something like the gradual shifting of the house can sometimes exert enough pressure for the tile to start cracking.
In this event, tile replacement is absolutely necessary. Chipped or broken tile can be a health hazard. You might step on the sharp corner and cut yourself. Or worse, your child might start playing with the broken pieces or even attempt to put it in their mouth. The same goes for pets. In a desire to chew everything in the house, they might think the broken pieces of tile are their new chew toys.
To keep the kitchen, or other rooms, safe, replacing broken tile is a no-brainer. Whether it's cracked or chipped entirely, your room will look a lot better with smooth and undamaged tile flooring.
Related Post: Remove Your Tile Without the Mess
Grout is a necessary part of tile installation. While it can also look quite nice next to stone tile or other kinds of tile, it is possible for the grout to start to look a little worse for wear over time. Grout can collect dirt, dust, stains, and other unpleasant blemishes as time goes on. It isn't always easy to clean either.
For one, you have to use the right kind of cleaner. Second, you need the proper equipment to get into the tight spots of the grout. For many homeowners, this is just a bit too much work than they would enjoy. Because of that, few actually end up cleaning their tile floors well enough to reach the grout. That means a lot of bacteria and other possible contaminants are just resting on your floor.
If you've noticed that the grout on your flooring is looking worn down, then it might be time to replace your tiles. Installers can redo the grout or clean it up to make it sanitized and looking great. With freshly cleaned grout, your new tiles will look even better against it.
At Cutting Edge Flooring Services, we offer stone cleaning and restoration services for your floors, countertops, and more. If you need tile and grout cleaning, we've got you covered!
One of the reasons many people choose ceramic tiling is because it looks great. Working with natural stone, in particular, can make flooring practically timeless. That being said, tile can sometimes go through flooring trends as well. If you want to sell your home, then you need to make sure that the tile in your home matches with the latest interior design trends.
If it doesn't, you might not make as much of an impact on your potential buyers as you would hope. Old tile can actually turn a lot of people off from buying the home. This is especially true if it looks old or dirty. They won't want to replace the tile themselves, so you should just get it done before you start showing the house.
Even if you're not moving, it doesn't hurt to have your home brought up to par in the latest trends for interior design. You'll have a place that you're proud to come home to every night and show off to friends. Tile can sometimes be a bragging point. Old tile can often just be an embarrassment.
If you need flooring installation, contact our team today to learn more about our process and how to get started with booking your appointment.
Another reason to replace your old tile is due to sanitary reasons. Much like carpet, you don't want to keep the same carpet in your house for longer than a decade. Even if you regularly wash and sanitize your tiles, there's always going to be some lingering germs and contaminants on it. This is especially true if the tile is in a high-traffic area like the kitchen or bathroom.

The best way to refresh the home and keep it sanitary is to replace flooring over time. With brand new tiles on the floor, you can step on it with your bare feet and be confident that it's far more sanitary than the old ones you had. You'll likely also find that the new tiles are brighter than the old ones. This is because older tiles tend to absorb dirt and germs over time. It can make their surface muddy or dirty looking. New tiles are fresh out of the box and look great.


One of the added benefits of doing any flooring work is that it also allows you to inspect the sub-floor. It isn't uncommon for sub-floors to need a bit of maintenance over time. With so much pressure being exerted on it daily, it's no surprise that they might start to sink or break in certain areas. Water damage can also cause a lot of problems.
You won't know of those problems if you never do any flooring work. Replacing your tiles can offer you a chance to see how the sub-floors of the home are holding up. Perhaps you've noticed that a certain tile seems to sink into the floor more than others. The sub-floor may be to blame for this.
Our team can smooth and flatten your concrete subfloor leaving it in pristine condition for the new floor. Contact us for more information.
Need a Tile Removal? Hire Cutting Edge, Today!
After you remove the tile, you might find that the sub-floor is broken, or the wood is rotting away. You can quickly and easily repair the subfloor and then place a brand-new tile over it to complete the project. The tile will be held in alignment with the others. You'll be assured that the sub-floor is reinforced and holding up to the strain. Replacing tiles can be a great reason for inspections.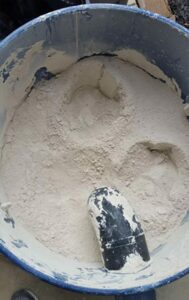 Indoor Air Quality in Flooring Removal – Crystalline Silica Dust Edition Air pollution is a serious problem around the world. Exposure to pollution can lead
Read More »